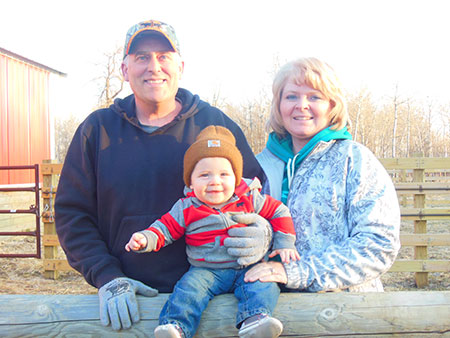 The Johnsons with grandson, Jett.
The Johnsons:
Aiming for High Quality Cattle
Visit Circle J Angus near Newfolden, Minnesota, and one finds a neat farm with impressive new buildings, purebred Angus cattle, and owners Ernie and Linda Johnson who are obviously passionate about their farming pursuits.
The highlight of the year at Circle J Angus happens every last Sunday in February when they hold their annual production sale with CarlSons Angus of Thief River Falls.
But let's start from the beginning. Ernie and Linda grew up east of Bemidji, attended 4-H together, and graduated from Bemidji High School. Ernie grew up on a farm. Linda's family didn't farm, but they raised Collie and Samoyed dogs.
Ernie and Linda attended the vocational school in Thief River Falls in the early 1980s, and Ernie owned and operated Johnson Welding in Newfolden for "fifteen to twenty years."


A cattle chute in a heated area makes winter handling easier.
They purchased a farm of 120 acres in 1987. Their acreage has now grown to 480 acres. Both Ernie and Linda have worked full-time off the farm for many years. Ernie has worked as a foreman for Davidson Construction for approximately 20 years. Linda is employed as Vice President of Operations at DigiKey in Thief River Falls. In her 28 years with the company (which is a distributor of electronic components), she has seen it grow from 96 employees when she started to over 3,200 today.
The Johnsons appreciate the diversion from their day jobs that farming offers. "Though it's hard work, it can be relaxing. It's something different than you do all week," said Linda. "Sometimes a change is better than a break," added Ernie.
The Johnsons purchased their first registered cattle in 2000 because, as Ernie explained, "We wanted to increase the quality of the cattle."
"Ernie enjoys the science and genetics. It's interesting and challenging," said Linda. "Quality is number one—you don't want to settle for second best," added Ernie.
Both Ernie and Linda are actively involved with the farm work. Linda takes care of the office duties including registering the cows with the American Angus Association. Ernie deals with figuring out the genetics.
The Johnsons have two grown children, Luke and Cassandra, who helped on the farm as they grew up. Luke continues to live nearby with wife, Stephanie, and son, Jett, and helps out on the farm when needed.
The Johnsons have lived at their current site since 2013, but in that short time have constructed a number of buildings, including a new house, shop, heated cattle barn, and horse barn.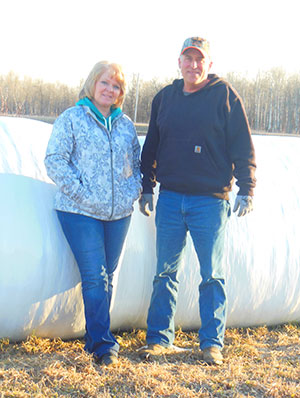 Linda and Ernie with wrapped hay.
They said their cattle handling barn was "built with the idea of making things easier and safer." It includes a crowding tub and a chute with an adjustable alleyway. In addition, it is insulated and heated so they can work cattle in any weather. Of the chute, Ernie said, "I built it in the shop. It was a winter project."
Calving starts on the Johnsons' ranch in late January and is completed by mid-March. The insulated cattle barn houses about 30 cows and is necessary for winter calving.
"We'll synchronize and AI breed the whole herd of around 60 cows and heifers, depending on the year," said Ernie. They AI a first group and then, two weeks later, AI a second group. A clean-up bull is used for cows where AI wasn't successful.
Of particular interest on the Johnsons' ranch is the wrapped hay which is baled with 30 to 40 percent moisture content. Although the Johnsons formerly rented a hay wrapper from the elevator in Clearbrook, they now own one with a neighbor. Ernie said they have used the hay wrapping system for four or five seasons and are well pleased with it.
"You can put up great hay in a two- to three-day window rather than four to five," stated Ernie. The wrapper keeps oxygen out of the bale, eliminating the mold problem. The Johnsons added that their system is particularly helpful to them since, with their off-farm work schedules, they can only put up hay on evenings and weekends. "You don't have to worry so much about weather," they commented.
Regarding machinery, they prefer John Deere equipment, believing it is comfortable, reliable, and holds its resale value.
The Johnsons spoke with enthusiasm about their annual production sale. "It's a fun day. There's no pressure—you've got time to decide what you want," said Linda.
Buyers get the royal treatment—a meal—during the 2016 production sale.

A brochure from their last sale states, "CarlSons Angus and Circle J Angus 18th Annual Production Sale and Silent Auction." The Johnsons have actually been involved with the sale for just the last six years, but for five years before that joined the Carlsons at their location. Ernie and Linda anticipate that the Carlson/Johnson sale will be held at the Johnson location in the future.
They emphasize the importance of Chuck and Cathy Carlson to their cattle business. "The Carlsons got us started with some of their genetics and a lot of advice. They allowed us to sell with them at their production sale."
Between the Carlson and Johnson animals, they sell about 50 to 60 bulls and heifers at each sale , with the bulls ranging in price from $3,500 to $7,500.
The Johnsons enjoyed a good turnout for their 2016 production sale.

This year was their second to hold a silent auction, which involved having EPD's and information available about each animal in the shop where people could bid, with the animals penned outside for viewing. The Johnsons aren't sure if they will use that system again, but according to Ernie, it's less expensive and a "way of passing savings on to customers," so it's likely that they will.
Cow with calf at Circle J Angus.
Lunch is important at a bull sale, too, and Linda reported that, with the Carlsons' help, they served 135 people burgers, chili, bars, and coffee at the last sale.
What advice would the Johnsons give to young farmers? According to Linda, "You have to be willing to put in the time; it's evenings and weekends, and it's a way of life you have to enjoy. It takes many years to build. We've been working at this for 30 years, and we're not done."
It's obvious the Johnsons are happy with farming. "It's not just the cattle you raise, it's the people you meet," commented Ernie.
Linda spoke of farming as "family oriented." She believes it's "good for kids. They learn a good work ethic."
What does the future hold for the Johnsons and Circle J Angus? "Increase the quality and maybe the quantity of the cattle," they said.